Cases of Note
R. v. Keegstra
James Keegstra, a social studies teacher in Eckville, Alberta, was charged with "willful promotion of hatred" against people of the Jewish religion after expressing his religious and political opinions in the context of a high school classroom. In the process of representing Mr. Keegstra, Doug Christie mounted a constitutional challenge of Section 319(2) of the Criminal Code, Canada's hate speech law.
Keegstra was convicted by a jury in 1995, but the conviction was overturned in 1988 by the Alberta Court of Appeal, which found that prohibition of hate speech was not a "reasonable limit" on freedom of expression, and "that prosecutions under this law, which is designed to promote tolerance, might become a weapon of intolerance."
The Supreme Court of Canada restored the conviction by a narrow 4-to-3 margin. This landmark decision insisted that speech controlled to ensure tolerance, but has ironically set the stage for years of intolerance against those with unpopular opinions.
R. v. Zundel
Unlike Mr. Keegstra, Ernst Zundel was not charged with expressing "hateful" opinions, but merely distributing a pamphlet questioning generally-accepted historical views about the Holocaust. Conventional historians deemed this to be "false news," and Mr. Zundel was charged under an archaic section of the Criminal Code, originally designed to protect politicians from libelous remarks. This provided the context for another constitutional challenge, in which Doug Christie argued that the mere assertion of the majority that a historical theory is "false" should not justify the prohibition of that theory's publication.
This time, the majority of the Supreme Court of Canada agreed, with Justice Beverley McLaughlin stating: "What is an assertion of fact, as opposed to an expression of opinion, is a question of great difficulty and the question of falsity of a statement is often a matter of debate."
Where the Keegstra decision placed limits on the kinds of beliefs which could be expressed, Zundel at least confirmed that the Supreme Court could invalidate a law which prohibited speech on the basis of popular opinion alone.
Canadian Human Rights Commission v. Taylor
During the same period that the Keegstra and Zundel cases were proceeding, Doug Christie represented John Ross Taylor, the first individual charged under Section 13 of the Canadian Human Rights Act. Section 13 makes it an offence to "communicate" statements which are "likely to expose" minority groups to hatred and contempt. Section 13 was created specifically for the purpose of prosecuting Taylor, who used a telephone answering machine to distribute political messages which were alleged to be anti-Semitic.
In 1990, Supreme Court of Canada upheld Mr. Taylor's conviction for contempt of court after he continued to operate his telephone hotline in breach of a Canadian Human Rights Tribunal order. This unfortunate decision (released on the same day as R. v. Keegstra) laid the groundwork for the prosecution of dozens more individuals in the following years.
Section 13 provides no defences to a hate speech charge (not even truth!). Until the Lemire case in 2009, 100% of Section 13 complaints were upheld. Today, the legislation is constitutionally in doubt and a private members bill repealing it has passed the House of Commons. Nevertheless, many of the same interest groups which opposed Mr. Taylor's constitutional challenge in 1990 are still lobbying to preserve this blunt instrument of censorship.
R. v. Finta
Throughout the late 1980s and early 1990s, Doug Christie was defence counsel in R. v. Finta, the first (and only) case ever to proceed under Canada's "War Crimes" law. The trial itself occupied nine months in 1989 and 1990, and was one of the longest continuous trials in Canadian history. The accused, a frail 78-year-old who may years previous had supervised the transportation of prisoners in the Hungarian city of Szeged during World War II, was charged with various counts of "war crimes" and "crimes against humanity."
In the end result, Mr. Finta was acquitted by a jury of his peers after a thorough examination of several months of evidence. The verdict was upheld by the Ontario Court of Appeal and the Supreme Court of Canada.
Finta stands for the proposition that hearsay evidence may be admitted in circumstances where it is both prima facie reliable as well as necessary to the defence of the accused. In addition, Finta holds that obedience to superior orders can be a defence to charges of war crimes and crimes against humanity, and that a trial judge is right to put such defences before the jury so long as the defences have an "air of reality."
The complete story of the Finta case is available in The Path of Legal Warfare, an e-book published by Doug Christie's life partner (and assistant throughout the Finta trial), Keltie Zubko.
R. v. Ahenakew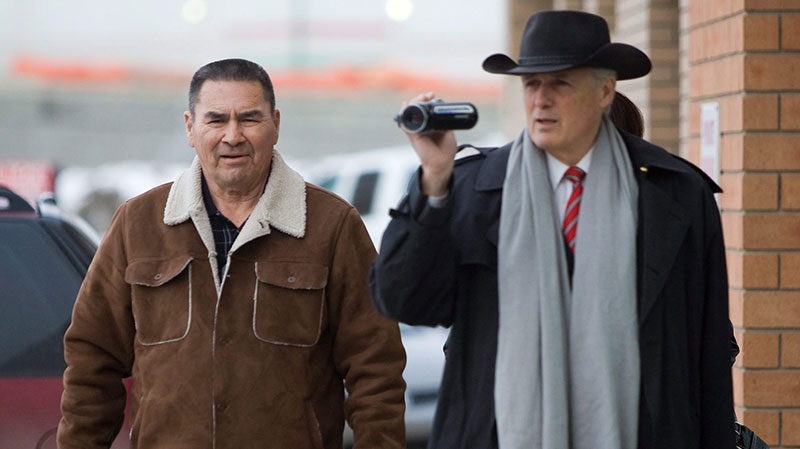 David Ahenakew, a well-regarded native leader in Saskatchewan, was criminally charged with "willful promotion of hatred" for his inflammatory comments when cornered and badgered by a reporter at a political event. Little did Mr. Ahenakew know, the reporter in question was carrying a hidden tape recorder. The resulting audio-tape provided the evidentiary basis for a criminal prosecution.
Although Mr. Ahenakew was convicted at trial, Doug Christie successfully challenged this conviction on appeal, arguing that Mr. Ahenakew's made his remarks in the context of a private conversation and he had no intention to promote hatred.
The Ahenakew case stands for the proposition that an individual is not criminally responsible for the spontaneous expression of their thoughts in a moment of anger.
R. v. Klundert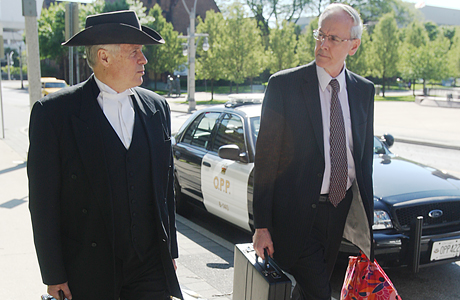 Beginning in the late 1990s, Doug Christie came to the defence of Dr. Jack Klundert, a Windsor, Ontario-based Optometrist charged with income tax evasion not for any act of fraud or deceit, but for his open and honest refusal to complete a tax return in circumstances where he sincerely believed that the Income Tax Act was unconstitutional.
In 2002, the matter went to trial before a jury of Dr. Klundert's peers who acquitted him, accepting that his intention was not to cheat or defraud, but merely to make a political point. The Crown appealed the acquittal, and in 2004, a new trial was ordered.
In 2006, Dr. Klundert was again acquitted, with the jury accepting the honesty of his beliefs. Again, the Crown appealed and was given yet another chance to prove Dr. Klundert's guilt.
Dr. Klundert's third trial took place in 2010. On this occasion, he was prohibited from testifying about his intent or telling the jury why he did what he did. Naturally, a jury who only heard one side of the story had no choice but to convict.
After the conviction, Doug Christie continued assisting Dr. Klundert, pursuing an appeal to the Ontario Court of Appeal, which upheld the conviction but acknowledged Dr. Klundert's "low level of deceit, if any, and lack of fraud." For this reason, the Court of Appeal overturned the one-year prison sentence ordered by the trial judge, and substituted a conditional sentence to be served in the community.
R. v. Klundert is the story of a conscientious objector who never gave up on justice, and encountered years of legal hurdles and challenges in the process. This case demonstrates that a government hostile to free speech does not stop at enforcing "hate speech" laws, but in fact employs a broad range of statutes (including, in this case, the Income Tax Act) to suppress and punish unpopular opinions.
R. v. Montague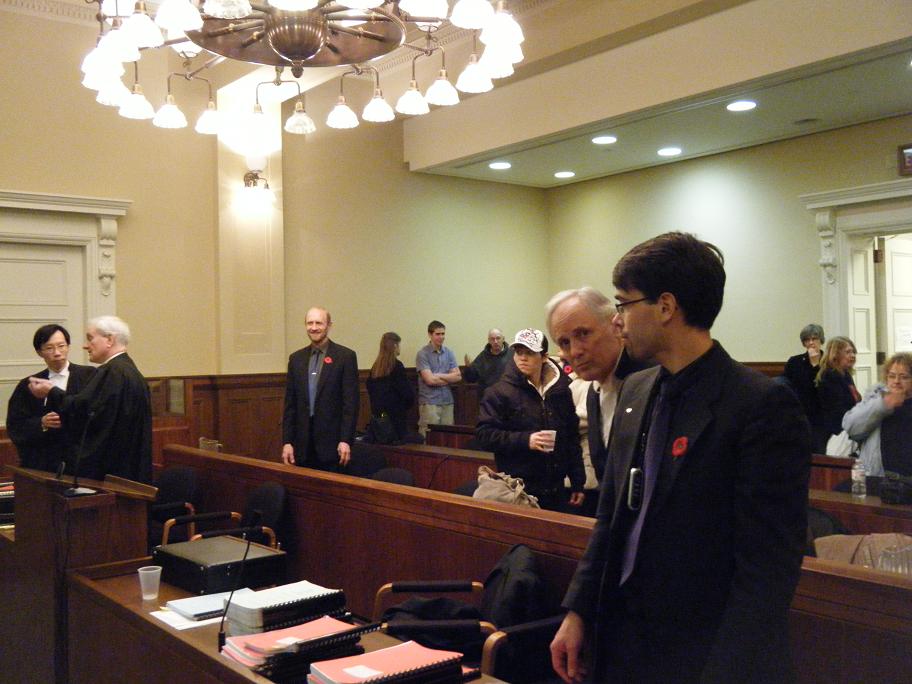 Bruce Montague is another conscientious objector who Mr. Christie endeavoured to assist. A local gunsmith in a rural area near Kenora, Ontario, Mr. Montague sincerely believed that the federal Firearms Act (which required licensing and registration of all firearms) was unconstitutional. Motivated by an honest desire to test the legislation in court, he refused to renew his firearms licenses.
Mr. Montague was ultimately convicted and sentenced to a prison term of 18 months. In addition, his firearms were seized by the Crown and his family home was placed in jeopardy of forfeiture under Ontario's civil forfeiture legislation. Mr. Christie continued to assist the Montague family in dealing with these issues up until the time of his passing in March 2013. The case has now been taken on by Karen Selick of the Canadian Constitution Foundation, who continues to struggle to save a peaceful protester from the crushing effects of punitive forfeiture.
Director of Civil Forfeiture v. Wolff
In the Wolff case, Doug Christie became the first lawyer to successfully oppose an action under British Columbia's Civil Forfeiture Act.
Frank Wolff, a law-abiding citizen who had been tricked into transporting a bag of marijuana, had pled guilty to possession for the purpose of trafficking in order to avoid the cost and embarrassment of a criminal trial. Two years after the offence in question, he bought out the lease on his $52,000 Dodge Ram using his lawfully-acquired retirement allowance. Shortly after this transaction occurred, the Director of Civil Forfeiture applied for forfeiture of the truck on the grounds that it was an "instrument of unlawful activity."
Mr. Christie assisted Mr. Wolff in opposing the forfeiture by raising a variety of constitutional issues regarding retroactivity and double jeopardy. Ultimately, the defence was successful and the truck returned on the basis that forfeiture in the circumstances was "clearly not in the interests of justice."
Wolff is a good example of Doug Christie's work in holding the government to account and protecting an individual from unjustified double punishment years after the fact. Wolff has since become a leading precedent on the need to consider "the interests of justice" in Canadian civil forfeiture litigation.